Backyard of the year Award 2022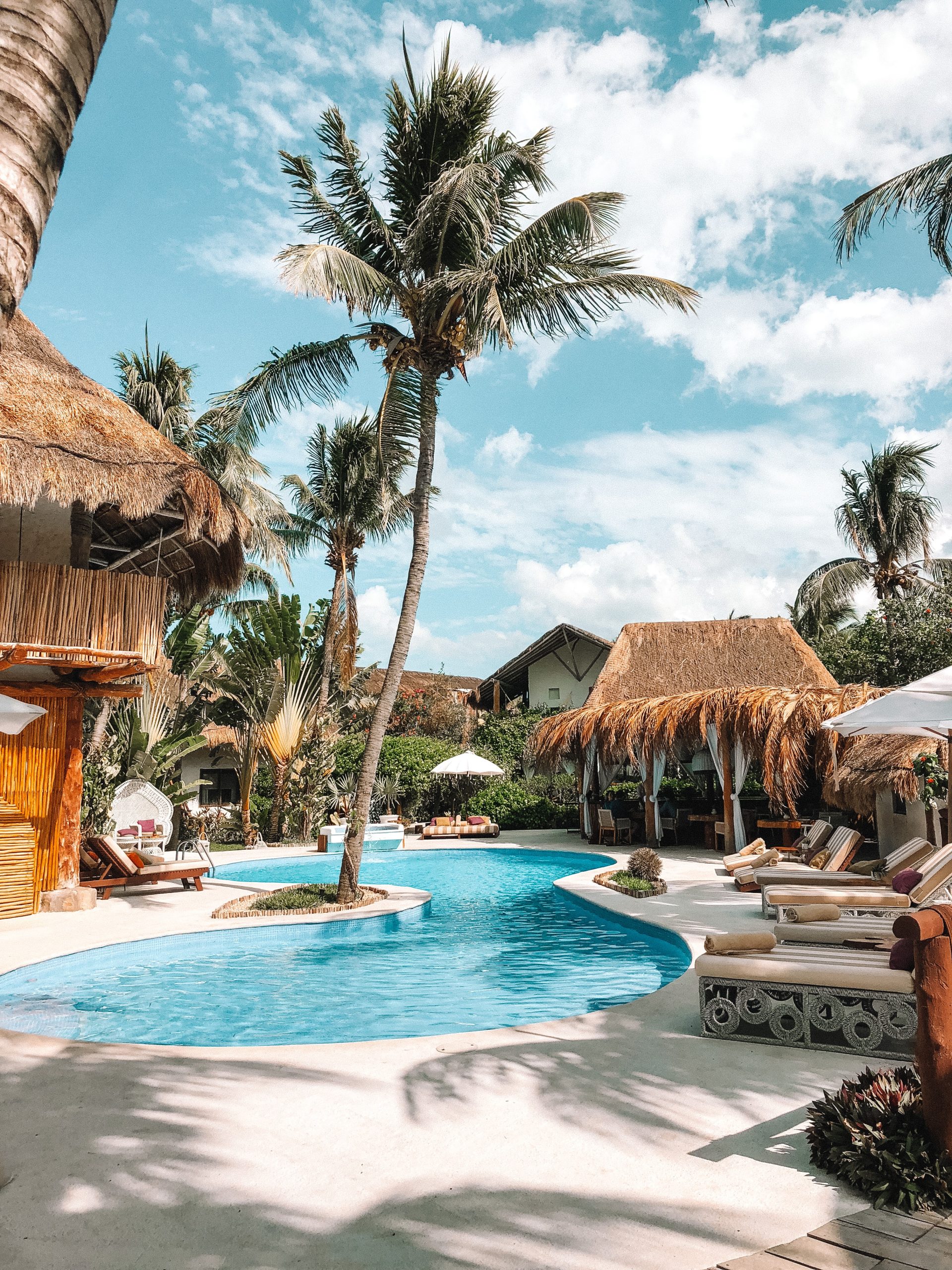 best pool builders in las vegas
pool companies las vegas nv
las vegas pool builders
las vegas pool contractors
Las Vegas Pool Builders & Swimming Pool Design

Happy Gorilla Pools and Spas Las Vegas
Happy Gorilla Pools and Spas is a top Las Vegas Pool Contractor. We would love the opportunity to give your family the pool you have always dreamt of. Our pool builders have been bringing families fun and joy for years. Let us do the same for yours.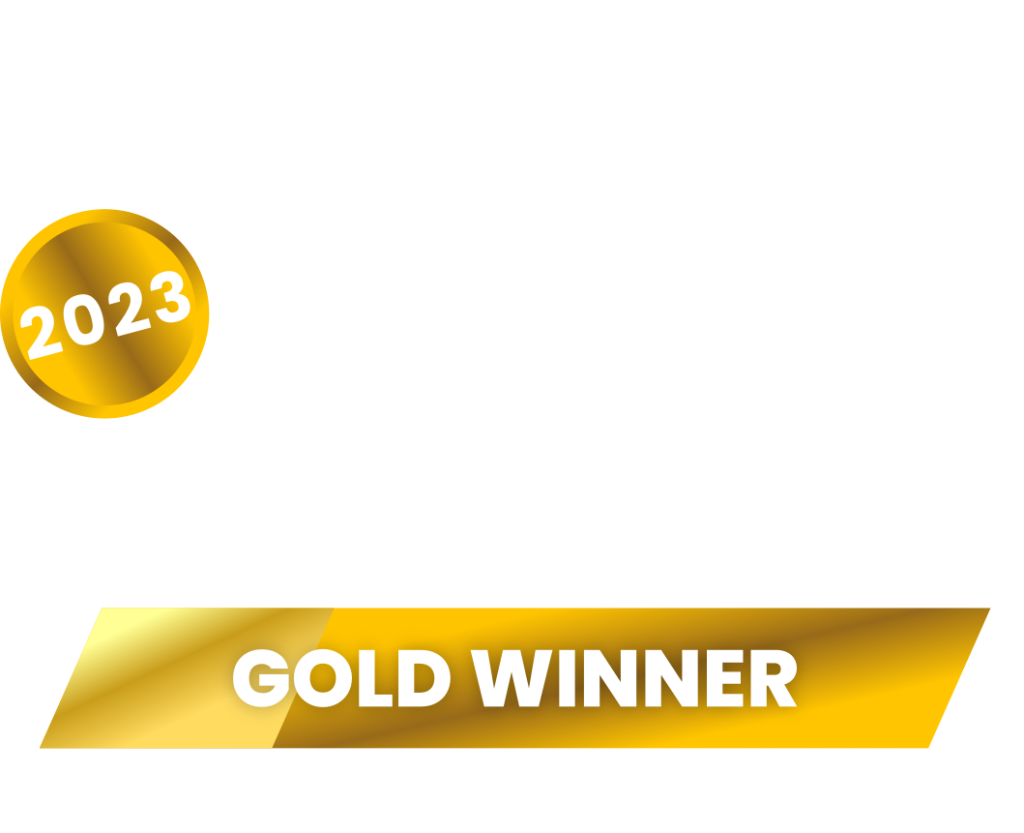 Splash Award
2022
Best Backyard
Pool Designer
Why choose Happy Gorilla Pool and Spas!
Happy Gorilla Pools is the top custom swimming pool builder in Las Vegas. We have designed and built hundreds of pools since we started and we are not stopping anytime soon.
Happy Pools For Happy Customers

Pool Construction Projects
As one of the top swimming pool builders in Las Vegas, We love making our customer's dreams come true, building beautiful and functional outdoor living spaces and custom pools in Las Vegas. Take a look at a few projects our team has built, and then contact us to build your new custom pool!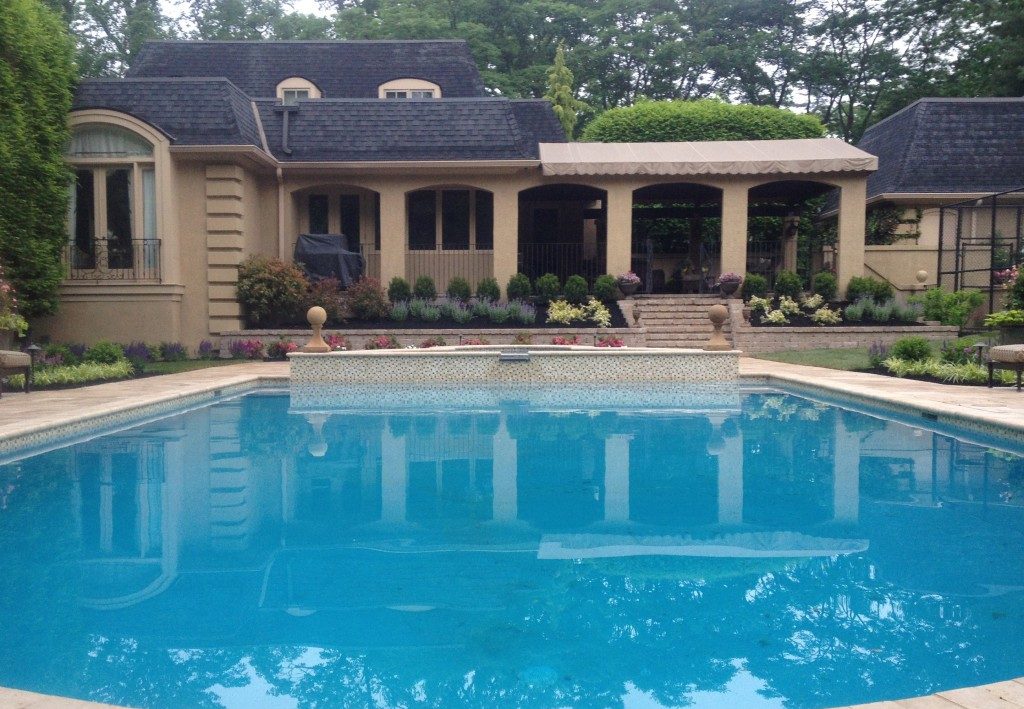 For this particular project we focused on the large pool, landscaping, and retaining walls built near the house.
At HGP&S, we stand out from other pool construction businesses thanks to our unwavering attention to your project. Our friendly and reliable team members will be with you every step of the way, ensuring that you receive the best customer service possible.
We take pride in our attention to detail, and we believe there are no better pool builders in Las Vegas to provide a personalized outdoor living environment that truly reflects your unique style. Our team will guide you through the pool design process, ensuring you receive a result that exceeds your expectations.
Step 1
Layout & Design
To create a custom 3D pool design, consult with our skilled designers and engineers. Our architects will start by spray painting the design on the ground where your pool will be placed in your yard.
This will allow us to ensure that you are happy with the layout before we provide instructions to the excavation team. Depending on the number of revisions required to finalize the layout, this process may take up to a week. Our goal is to ensure that you are satisfied with the final design before moving on to the excavation phase.
Step 2
The Dig

Excavation is a thrilling time for both kids and adults. Everyone enjoys watching big machinery, and you can witness your backyard transform into a beautiful swimming pool right in front of your eyes.
Our skilled craftspeople make the process look simple, but it requires a lot of experience, time, and hard work to achieve the level of knowledge and expertise they possess. During the second week, the process takes around two days, followed by a permit-pulling wait of up to 1 week.
Step 3
Installation of Steel
During Week three of the installation process, the steel installation takes place which usually lasts for two days.
At this point, the family can sit back and relax while watching our builders use the techniques to bend and form the steel to the shape of the new swimming pool.
Step 4
Plumbing & Electrical
The plumbing system for a swimming pool requires careful planning. A professional plumber will install the circulation system, main drain, skimmer, and additional water features based on your choices.
Installing the features that filter the pool water is also part of the plumbing process. This may take up to a week, including the time required to obtain permits.
Step 5
Shotcrete
Over the next three days, our skilled craftsmen will work on the pressurized concrete for your pool, spa, and steps.
They will use heavy equipment to gather and install the concrete according to your design. The process takes three days, during which time the concrete will dry and set.
Step 6
Tile and Decking
The tile setter is a skilled artist responsible for enhancing the beauty of the pool area by decorating its perimeter with tiles as per your request.
The tile and decking phase typically takes around a week (seven days) to complete, although this duration may vary depending on your chosen design and square footage.
Step 7
Interior Finish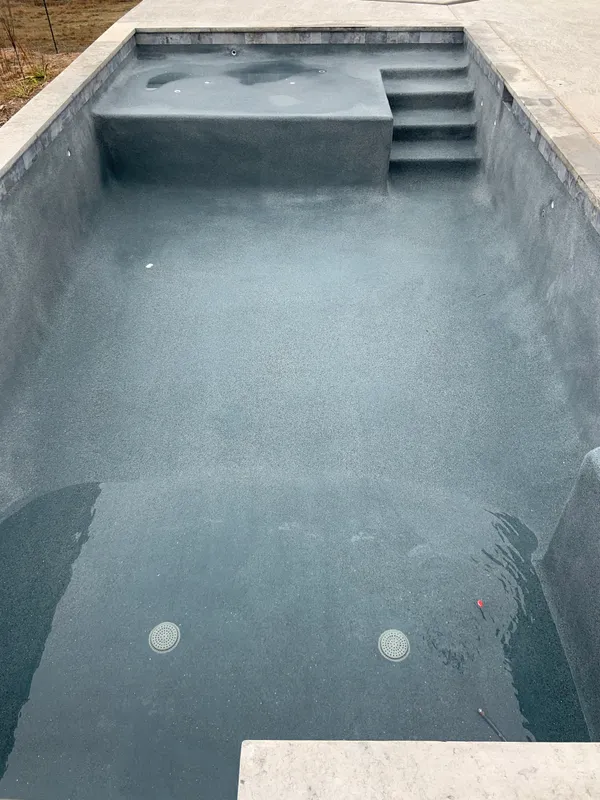 Our skilled craftsmen can expertly shape and control pressurized concrete flow to create the desired design style for your swimming pool.
The interior finish is applied to the floor and walls and takes about three days to complete. We take pride in our meticulous approach and are excited to create a functional and beautiful space for you to enjoy.
Step 8
Pool Start-Up
In the start-up phase, a technician tests the swimming pool, installs fittings if needed, and cleans the pool and tile deck.
The technician balances the water and adds chlorine over a few days. The process takes about a day to complete, but it takes a few more days to completely blue the pool.
Step 9
Final Coating of the Deck
The final step in constructing the swimming pool involves applying the last coat of paint on the deck.
This process adds a shiny finish to the pool. The paint takes about 12 hours to dry, and the entire process is typically completed within a day and a half.
Step 10
Landscaping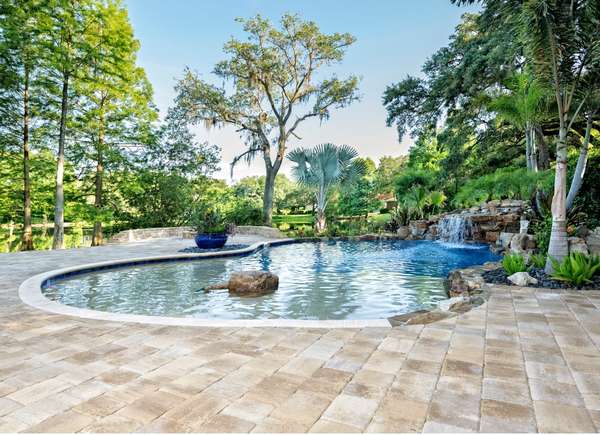 The final step in your process is landscaping your yard, which can take up to seven days or more, depending on the chosen layout style.
Appreciated by our clients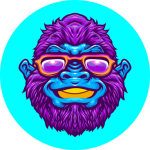 "They not only met my expectations but exceeded them! Our backyard looks amazing with our new pool. Thanks Happy Gorilla Pools!"
Get in touch
with a pool expert
Forms protected via Hypertext Transfer Protocol Secure.
Ready to talk? Call us now.
We believe building
long-lasting Happy Pool relationships.
You're in Good Hands
(and Big because they're Gorilla Hands!)
Here at Happy Gorilla Pools and Spas, we offer quality pool construction in Las Vegas that is all-encompassing. Our team creates unique, beautifully designed pools that fit your desired design perfectly.
Planning a pool installation can seem overwhelming but you can trust the experts. Our years of experience let us deliver pools that fit both your property and your dreams.
We are eager for the opportunity to help you give your Las Vegas yard an awesome makeover. We'll take care of everything from start to finish, and have some innovative design ideas that we're sure will fit your needs and style.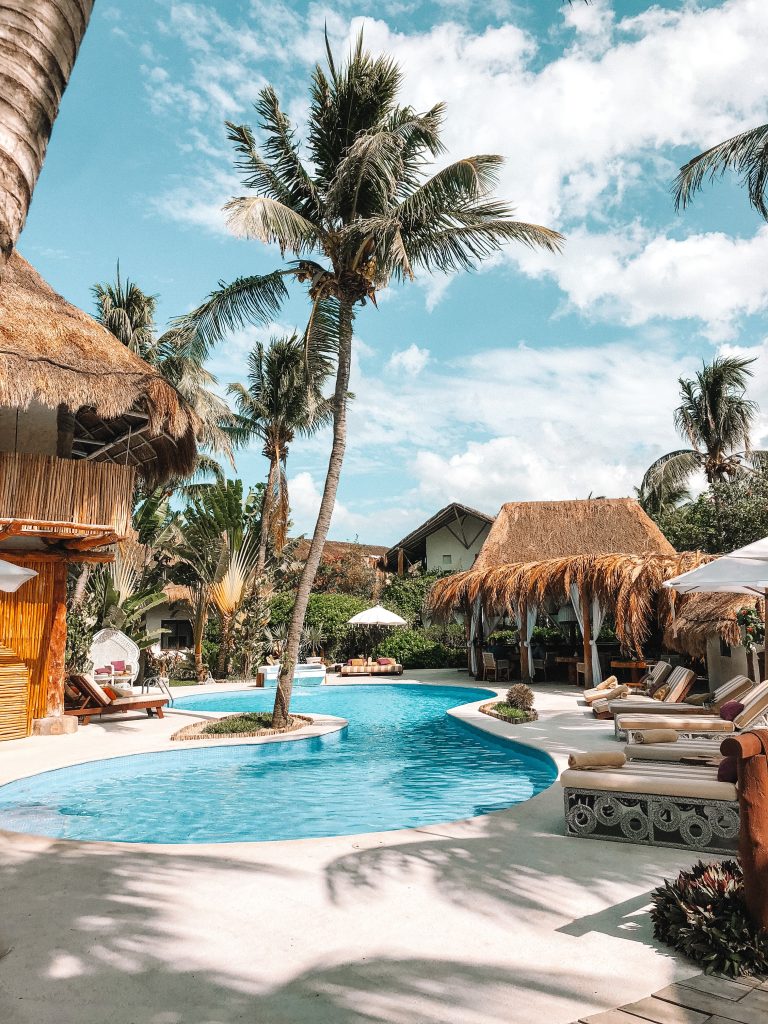 You'll Get the Greatest Quality
(Gorillas love pools and are extremely neat!)
Happy Gorilla Pools and Spas strives to provide quality swimming pools built in a timely manner. We will work hard to help you have a positive experience from start to finish.
As an experienced Las Vegas Swimming Pool Contractor, our planners and builders are able to research a project's needs as well as help homeowners create the ideal backyard oasis.
Whether it is an impressive waterfall, large family corner, or elegant spa, we have the capacity to design anything you're looking for in your next pool!
Trust the Best Team in Vegas
(you can trust the Gorillas with your pool, just don't leave any bananas out!)
With years of experience as pool designers, service managers, and pool contractor experts, you can trust your pool with our team of skilled professionals to help build your new Las Vegas custom pool.
We've pulled in the best pool builders from Las Vegas to create a bespoke water sanctuary that fits you perfectly.
Forms protected via Hypertext Transfer Protocol Secure.
Ready to talk? Call us now.